Croatian Academic and Research Network – CARNET is a public institution employing more than 180 employees in six Croatian cities.
Due to the dynamic changes and new trends in information and communication technology and its application in education, we continually look for motivated, capable, and educated experts who will contribute to accomplishing CARNET's six strategic priorities:
Advanced infrastructure
Advanced services
Education 4.0
Security and identity
Development and innovation
Agile organization
We offer our employees access to the network, computer and internet technology and equipment, working in a dynamic and flexible environment on engaging and challenging tasks. At CARNET, we nurture a positive and friendly atmosphere, and the key values we expect from employees are excellence, innovativeness, trust, openness, efficiency.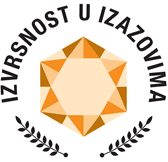 We pay special attention to the education and professional development of our employees, and we enable them to attend various educations, seminars, and courses.
Concern for the well-being and health of our employees is our number one priority. We received recognition from Selectio – a leading group specialising in human resources consulting, which awarded CARNET with the award "Excellence in Challenges" for successfully adapting to the new situation caused by a coronavirus in the segment of human resource management.
If you want to become part of our team, apply for one of our open competitions. For all questions and additional information contact us at posao@carnet.hr.